This gallery showcases some of the work that TreeCreeper Guitars have undertaken. These are are our more recent projects, you can see further projects by clicking on the links or using the menu items.
Thinline Telecaster – new build
Based on a telecaster shape but with the f-hole repositioned for individuality. The wood is American black walnut and looks beautiful in its natural oiled state. Hardware is a Tesla neck single coil with a stacked Irongear  humbucker at the bridge. Coil tapped circuitry enables the single coil feature of the bridge pickup and provides the versatility of greater output when playing rock, pop or jazz.
Solid Straight Through – new build
A single piece of wood.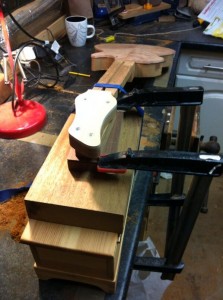 Not always a guitar…
A Les Paul shaped chopping board.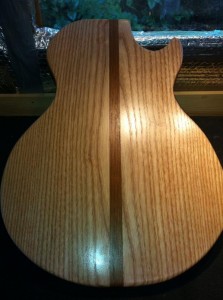 [Latest Projects]    |    [Guitar]    |    [Bass Guitar]    |   [Ukulele]    |    [Mandolin]  |  [New Build]
Please call 07903 395 070 for further information or contact us