The process of building a stringed instrument to a high standard is a not an easy or quick task. From conception to finished product generally takes about 4-8 weeks to complete.
Dougie Wibberley has personally built many instruments and each one has had its own difficulties, snags and dilemmas, however pride in workmanship ensures that none have left the workshop without being as close to perfect as can be.
The first thing to consider when conceiving an instrument is the choice of wood:-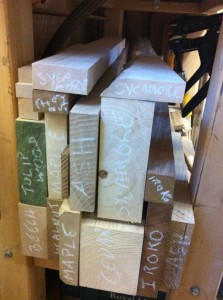 There are many different woods currently available for use in luthiery, however at Treecreeper we try to use what is in abundance and ethically sourced – obtaining wood from sustainable sources is not only eco friendly and improves your carbon footprint, it is a life statement, and as there is no conclusive evidence that rare and exotic woods provide a better tone, it only makes sense that ethically sourced wood creates a harmony for the build and the resulting instrument.
At TreeCreeper we work closely with a local tree surgeon, so if a Sycamore, Hawthorn, or a Chestnut tree, is cut down then we are offered the timber. We dry it out to the correct moisture content and that becomes the source material for our instruments. We are then rest-assured this is not farmed timber, or timber that has come from a precious habitat, or continually scarcer rain forest.
Using sustainable wood resources in this way does not mean our instruments are somewhat inferior, quite the opposite in fact. As an example; Sycamore (used recently on a ukulele build), is part of the Maple family. Maple is used considerably in guitar manufacturing and Sycamore is no different. It could be considered better as it has been used extensively in violin making for the last 300 years and tone has to be a factor in that.
All this aside, if  you have a specific piece of wood or want to source your own wood, then we will accommodate this and build your instrument to your requirements. An established provider of exotic woods is available here.
Having your own instrument made for you is a wonderful opportunity to own a completely unique and personal instrument that we are sure you will treasure for a long time.
Every instrument made at TreeCreeper guitars is guaranteed for five years and a free annual check up and service is included during that period.
Flexible payment options are available, please contact us for details.
As every build is unique its difficult to give general prices, but as a guide, expect to pay between £300 and £2000.
Below are a few examples of TreeCreeper Instruments –
A 6 String Laptop Slide Guitar
A F Hole style Ukulele 
A Gibson SG style Electric Guitar
A Multi laminate Bass Guitar
Please call 07903 395 070 for further information or contact us