The following pictures  show the transformation of a Peavey T-40 bass to fret-less version. It can make sense to perform a fretless bass conversion on a less expensive guitar (if you have one available) rather than purchase a fretless model. The conversion plays well and the fret markers are naturally present. Plus it can be converted back!
In this case the fretless bass conversion worked really well and the customer extremely happy.
Bass guitar before fretless conversion.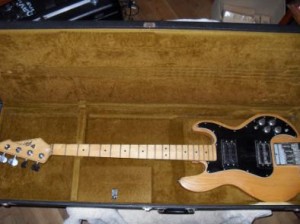 The conversion:
The finished, now fretless bass.
Other galleries available.
[Latest Projects]    |    [Guitar]    |    [Ukulele]    |    [Mandolin]  |  [New Build]
For further information please contact us