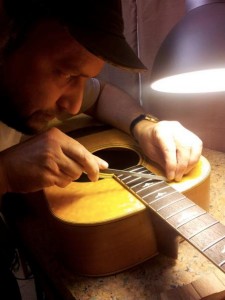 My musical journey started when I was around 17/18 years of age, around 1988. I was unemployed at the time and it was Giro day! I went to the Post Office and cashed my giro cheque for approximately £60, that was 2 weeks unemployment benefit. Directly next door to the Post Office was a small independent musical instrument shop called Jacks Banjos, I came out of the Post Office and went directly into the musical instrument shop and bought an acoustic guitar for around£58. I now had £2 to last me 2 weeks and a Marlin Seagul white acoustic guitar.
Who needs money when you have music 😉
In the following weeks I had no choice but to stay in my council flat and learn the guitar. With help from my older brother I managed a few basic chords and became addicted. The rest, as they say is history 🙂
For the next 20 years I played various types of instruments in various bands namely Bass and Electric guitar.
Around 2005 I became fascinated with the construction side of Instruments and my obsession with building and repairing instruments started.
I already had a basic grasp of woodworking due to years of kitchen fitting and other building experience but i needed more, so i enrolled in an online woodworking course which specialised in hand tools only. This was great grounding for a career as a luthier.
Since then I have been repairing and building all manner of stringed instruments such as Ukuleles, Acoustic Guitars, Electric Guitars, Bass Guitars and Mandolins.
I always endeavour to repair/ set up or build every instrument to the highest level and I take a lot of pride in my work.